igugu project exchange north south
Summary of the project:
The purpose is to recreate the vitality and creativity that existed during the 1960s and 1990s between South African and West Swedish cultural life, among professional artists and audiences, and to spread that tradition by involving younger artists in workshops for Swedish and South African artists.

The goal is to make West Sweden a significant meeting place for South African professional artists with the hub of KKV-B and its well-equipped workshops and guest studios and from there spread to artists in the region, nationally and internationally.

This is achieved by groups of artists visiting each other's workshops in each country, living, working and exhibiting together. The visiting artists are guided and inspired by the local artists and present themselves by bringing three pieces of their own artworks for display and conversation.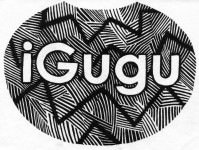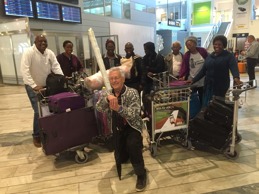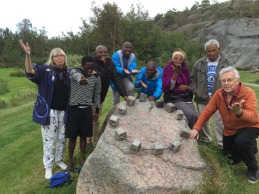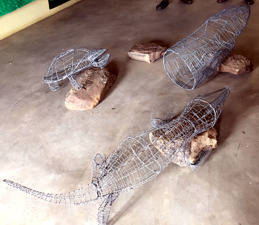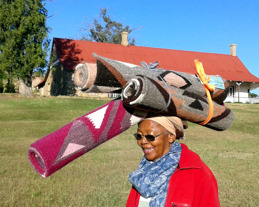 Efter förra årets succéartade utställning på KKV-B:
RORKES DRIFT – 55 years of Art & Craft – SOUTH AFRICA,
öppnades den vilande föreningen Konstkusten av Agneta Ekman Wingate, Ivan Stüffe och Malin Sellmann för att återuppta utbytet mellan Västsverige och Sydafrika.
Ett konstnärligt utbyte, som har rötter i sextiotalet med utställningar på bl. annat Konsthantverkshuset (1981) och Röhsska museet (1965 och 1985) och inte minst de två stora utställningarna med konstnärsutbyte på Konsthallen Lokstallet i Strömstad 2005 och 2006, som fick stöd av Strömstads kommun, Västra Götalandsregionens kulturnämnd och Statens Kulturråd.
Efter årens starka engagemang mot apartheid och i nära samarbete med ANC och Lindiwe Mabusa, då Sverige representant för ANC, har mycket av kontakterna med Västsverige avstannat.

Konstkusten vill tillsammans med Princess Tyler, ELC Art & Craft Centre-Rorkes Drift och Reeves Gumede, Indonsa Art Centre-Ulundi, starta samarbetet på nytt mellan några av de konstnärer som då deltog och en grupp yngre konstnärer.

Västra Götalandsregionens kulturnämnd beviljade ett bidrag på 75 000 kr och Tanums kommun 5 000 kr, för genomförande av utställning och workshops, eftersom man ser positivt på att dessa kontakter, som finns, används och, inte minst, förnyas.

Det stärker Västra Götaland som en mötesplats i världen.

I mitten av augusti anländer Princess och Reeves med fem konstnärer till de workshops som Agneta, Ivan och Malin arrangerar och
De besökande sydafrikanska konstnärerna är: Victor Shabangu, Phumla Magayiyana, Lindani Nyandeni, Sithembile Khuzwayo och Senzo Nsimbi.
För mer informtion kontakta
Malin Sellmann, 070-6019147
artrorkesdrift@gmail.com
iGUGU
SOUTH AFRICA-SWEDEN
ARTISTS EXCHANGE 2016
Rorkes Drift/Ulundi/KKV-B
3-14 september 2016
KKV-B Stensalen/Lilla Galleriet
Skärholmen, Gerlesborg
Lördag 3 september kl. 13.00 öppnas utställningen av
Lars Nordström, 1ste vice ordf. kulturnämnden och
David Bäck bjuder på sydafrikanskt inspirerad musik.


RORKES DRIFT
55 years of Art & Craft
SOUTH AFRICA
22/8-3/9 2015
STENSALEN &
LILLA GALLERIET
At KKV-B, Skärholmen, Gerlesborg
SWEDEN
Opening 22/8 at 13.00 by
LARS NORDSTRÖM
1st vice Chairperson of Västra Götalands Regional Cultural Board
PRINCESS TYLER
Director of ELC Art & Craft Centre-Rorkes Drift
and
REEVES GUMEDE
Director of Indonsa Arts Centre/Ulundi
and Chairperson of ELC ACC

Gives an introduction of their different Art Centres and their planned Partnership program
"NORTH/SOUTH ARTIST EXCHANGE"

Conact us:
+46 70-6019147 +46 525 151 118
Malin Sellmann, Art Consultant